ANNEMIKE VAN VLEUTEN - BASECAMP
OF THE COFFEE LANDS!
Coffee Lands Basecamp ft ANNEMIEK VAN VLEUTEN 🌈

Join us on this 6 day tour around the Colombian Coffee region riding with the best female cyclist of all time. We will ride through the vivid greens of coffee plantations 🌿, climb to the highest paved road of Colombia 🇨🇴, sleep nearby an active Volcano 🌋, and get to know one of the biggest wax palm forests of the country 🌴.

Only 10 spots for this Luxury experience where you will make friends, climb mountains and learn a lot about cycling.
255.5 kms
7.839 mt Elevation
January 30th 2024
Febrary 4th 2024
$USD 2.350
6 days / 5 nights with guided accompaniment
Premium lodging at private ALTOS Club House
All feeding included
Transfer from Pereira Airport
Transport of luggage and bicycles
Pro cyclist guidance on every stage
24 hours mechanical support
Support vehicles 24 hours
Sport nutrition (gels, bars, electrolytes)
Event kit (Cycling jersey, T Shirt, essentials case)
Accident insurance
ALTOS is a company that allows cyclists to travel through Colombia on their road bikes while their non-cyclist companions enjoy all the cultural activities this country has to offer. This is a Colombian company that will guide you to meet its culture while practicing the best sport in the world.
ALTOS was created by two siblings from Manizales whose family has been united by a cycling life style. They´ve witnessed and have been part of several accomplishments by Colombian cyclists. In ALTOS we believe this sport is the best way to meet good friends, share time with relatives, and test your mental and physical limits.
We will take you on a cycling tour in which your mental and physical strength will be tested. We will delight you with our many cultural experiences.
We offer a familiar environment that will make you feel at home.
Our main goal is to get you to know the true Colombian culture, you´ll experience this country from within. We will pedal on the roads that have forged many world tour riders while we meet agricultural populations and towns that were once Spanish colonies.
We´ll provide the best service for cyclists and we will assure you that the only thing you have to worry about is to pedal. You'll be riding with coach Jill Patterson, 2022 USA National Gran Fondo Champion, and coach Lee Sandstead. She, alongside coach Lee, will be coaching and guiding you as you ride with them each day.
We´ll host you in the best hotels of each region that combine premium service with authentic cultural experience.
BASECAMP of
the COFFEE LANDS
305 kms
5.374 mt Desnivel
Del 30 de Enero
al 4 de Febrero
5 días / 4 noches de acompañamiento guiado
Hospedaje premium 4 noches
Todos las comidas incluídas
Todo el transporte terrestre (Recogida en Pereira)
Transporte de equipaje y bicicletas
Guías en bicicleta (Ciclista Elite)
Servicio mecanico 24 horas
Vehiculos de apoyo
Nutrición deportiva (Geles, Barritas, Electrolitos)
Kit (Essentials case, Cycling Jersey, T-shirt)
Seguro contraccidentes
WELCOME TO ALTOS CYCLING!
DATE: FROM JANUARY 30TH TO FEBRARY 4TH
We will be waiting for you at the Matecaña Airport in Pereira from 1:00 PM to 3:00 PM, to transport you to our private house in Santágueda, Caldas. There we will have our welcome dinner with a guest chef!
APROX DURATION 4:00:00
DISTANCE 83,88 KM
ELEVATION GAIN 2.346 MT
MAX ALTITUDE 1.791 MASL
CLIMB OF THE DAY  ALTO DE RISARALDA
Today we will have our first contact with the coffee lands of Caldas. We will ride along roads little known to tourism in our country. We will cross the Cauca River and go up through Risaralda, crowning the ALTO DE BELALCÁZAR. Then we will pedal along the crest of the mountain range, enjoying the view and the coffee crops, arriving at the municipality of Belalcázar. We will have a delicious coffee in this iconic town, and then descend again to our private house. It is very important that we rest today and recover our legs, because tomorrow we will face a very important challenge.
1
STAGE
STAGE of
the coffee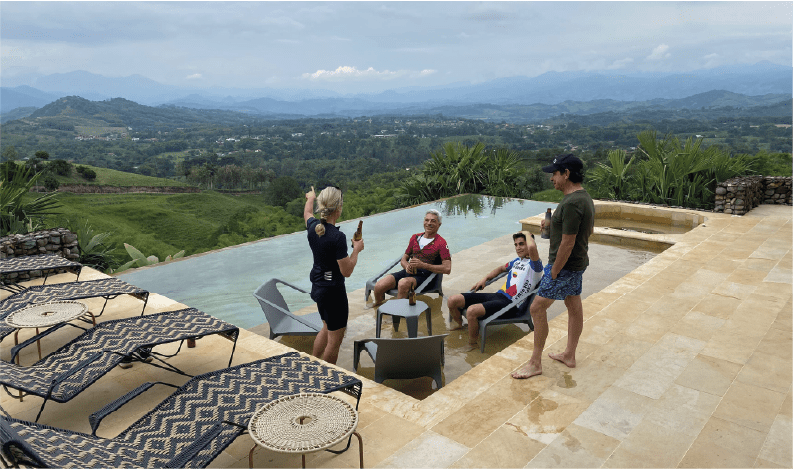 DIFFERENT CHEFS

EACH NIGHT!
APROX DURATION 3:30:00
DISTANCE 53,14 KM
ELEVATION GAIN 2.485 MT
MAX ALTITUDE 4.079 MASL
CLIMB OF THE DAY  ALTO DEL GUALÍ
After breakfast, you can decide whether to do the entire stage by bike or do half of it by car. Either way, today will be a demanding day. We will ascend the HIGHEST PAVED ROAD in Colombia. On the way to the top, you can observe how the vegetation and climate change, as well as feel how oxygen gradually decreases. The fight will be worth it because we will end up in an active volcano that has one of the most beautiful landscapes in our country. In the afternoon, you will rest your legs in the relaxing hot springs of Termales Hotel.
2
Stage
MANIZALES
LETRAS - GUALI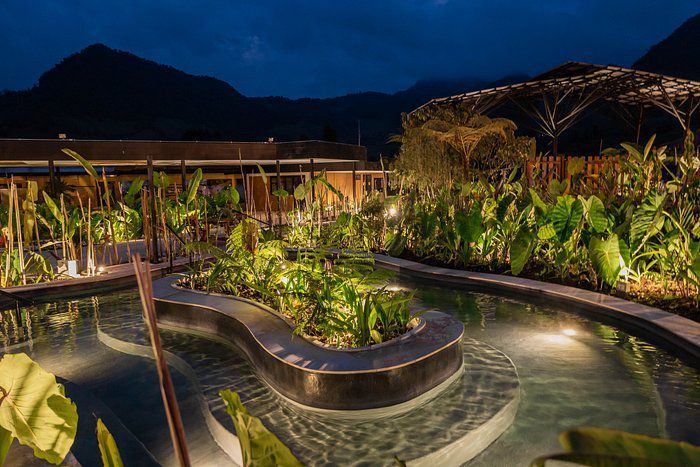 LIVE TO RIDE,
RIDE TO
PEDALEAR
POR TODO
COLOMBIA
APROX DURATION 4:30:00
DISTANCE 73,54 km
ELEVATION GAIN 1.592 MT
MAX ALTITUDE 2.130 MASL
CLIMB OF THE DAY  ALTO DE MARSELLA
After immersing ourselves in the relaxing experience of Termales, we will continue our day quietly, pedaling gently along paths that wind through lush coffee plantations, an experience that will allow you to connect even more with the essence of the Coffee Axis. Then, to make sure you enjoy a complete and comfortable rest, we will transfer you by vehicle. We will arrive at the only hotel in Latin America designed only for cyclists, the CASA DU VELO hotel. This night we will have a special dinner and we can rest well from the hard day we had.

Congratulations! You have conquered the Coffee Axis!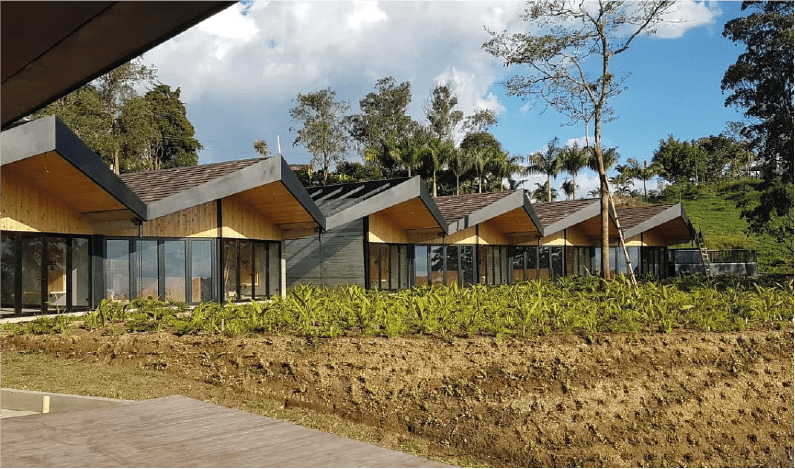 APROX DURATION 3:26:26
DISTANCE 44,94 KM
ELEVATION GAIN 1.416 MT
MAX ALTITUDE 2.416 MASL
CLIMB OF THE DAY  ALTO DEL COCORA
Today we will have the option to take the last tour of the coffee lands. For those who want to ride, we have a loop through Montenegro ending in Salento, the perfect way to say goodbye to these lands. After lunch in Salento, we will return to CASA DU VELO. We will spend the entire afternoon walking through the beautiful streets of Filandia, where we can get some Colombian souvenirs to take back home.

At night we will have an incredible farewell dinner!
4
Stage
CASA DU VELO
SALENTO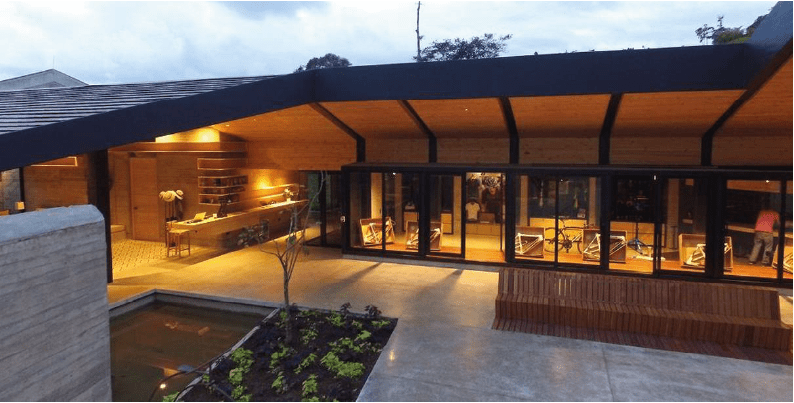 After a delicious breakfast, we will be ready to take you to Pereira airport. We hope you had an amazing week!
FINCA PRIVADA SANTAGUEDA - 4 Nights