If you are traveling in Colombia and are looking for an unforgettable experience touring the country's roads and witnessing incredible landscapes, you should definitely check out our road cycling in Colombia services, which have everything for you to live incredible moments and adventures during your stay in one of the most diverse countries in the world. Read on to learn more!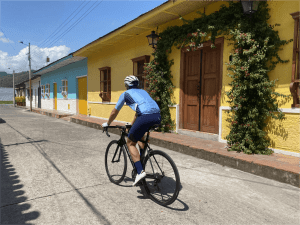 Why is it a good idea to visit places in Colombia by bicycle?
There are several reasons why road cycling in Colombia is an experience you will enjoy to the fullest, among them:
You will witness beautiful landscapes: Colombia is a country with a great variety of natural landscapes, from mountains and valleys to beaches, forests, and tropical jungles. Touring the country by bicycle will allow you to enjoy these sights in a closer and more authentic way, as you will be able to breathe the air of the different territories and visit places that you might not be able to reach in any other way.
You will be able to have more interaction with the local culture:

When traveling by bicycle, you have the opportunity to interact with the local people in a more direct and closer way, as you can stop in different towns, get closer to communities and experience a little more of the daily life and customs of the different parts of Colombia.

You take care of your health and well-being:

a bike tour is also a great way to exercise and keep fit while enjoying a trip. In addition, it is proven that cycling can be an effective way to reduce stress and improve your emotional well-being, so dare to experience it!

You will live a great adventure:

Touring Colombia by bicycle is a real adventure and can be an exciting and enriching experience that you will remember forever because it allows you to get out of your comfort zone, meet new places and people, as well as live unique and unforgettable moments.

You will connect with nature:

If you are a person who enjoys ecological plans or plans that allow you to explore nature,

road cycling in Colombia

is definitely for you.

You support sustainable tourism:

road cycling in Colombia

is a commitment to travel the country in a conscious and sustainable way, as it seeks to respect ecosystems and their communities by supporting local businesses, for example.
Learn more about our routes here.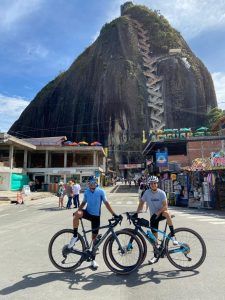 In Altos Cycling we offer you touristic plans that allow you to tour different places in Colombia by bike, guiding you to immerse yourself in the Colombian culture and landscapes while you do sport and enjoy a safe and quality service. If you want to experience something totally different from what you are used to and challenge yourself mentally and physically, we invite you to contact us to learn more about our packages, we are waiting for you!