This 6 stage tour will take us to the most amazing gran fondo of Latin america and also climbing one of the greatest climbs on earth. The first block of the tour will be focused on racing the famous @giroderigo and gettin to know to Colombian cycling culture and in the second block we will climb the mighty ALTO DE LETRAS to get to coffee region.

You'll see the different Colombian cultures, the different types of vegetation, fauna, and the roads will test your physical and mental strength. Our staff will make sure you only have to worry about having fun! Don't miss the opportunity to live this premium experience with an expert staff that will support you in your tours, besides sharing adventures with the best cyclists in history.
477 kms
6.946 mt elevation gain
9 - 16 Nov, 2023
$USD 2.850
Event ticket
8 days / 7 nights fully accompanied trip
All accommodations (Double occupancy)
All breakfasts and 2 dinners
All ground transportation
All luggage transfers
Services of our expert guides
24 hour Mechanichal support
Support vehicles
1 sports massage
Sport nutrition (Energy bars, Drinks)
Kit (Bidon, Cycling Cap , Cycling Jersey, T-shirt)
Staff to customer 1:2
Travel accident insurance
We will be waiting for you at 2:00 pm at the Movich Hotel located in Bogota. Our mechanics will be ready to help you get your bike ready
for the adventure ahead.
In the evening we will have our Welcome Dinner
APROX DURATION 3:00:00
DISTANCE 92,05 KM
ELEVATION GAIN 470 MTS
MAX ALTITUDE 2.752 MASL
CLIMB OF THE DAY  ALTO DEL TEQUENDAMA (DISTANCIA: 12 KMS, PENDIENTE MEDIA: 5 %)
Today we will wake up and have breakfast at the Hotel, to recharge our batteries before going out to ride in this first stage. In which we will ride 92 km of natural landscapes where we will be able to observe a great diversity of birds.
To finish in a private farm where we will have all afternoon to relax
by the pool, waiting for the night to have a dinner with a private chef.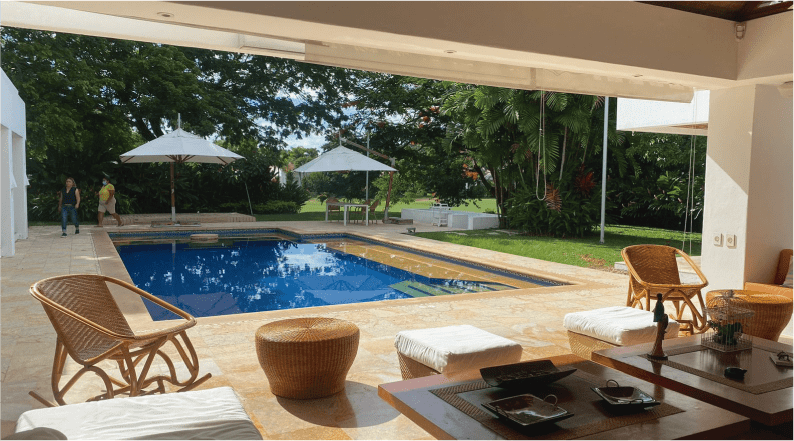 WE WILL MAKE
YOU FEEL EN
FAMILIA!
APROX DURATION 1:40:00
DISTANCE 51,6 KM
ELEVATION GAIN 393 MTS
MAX ALTITUDE 402 MASL
CLIMB OF THE DAY  ALTO DEL NIDO (DISTANCIA: 3 KMS, PENDIENTE MEDIA: 5 %)
Today we will have a preparation ride, where we will focus on conditioning our body, we will do a 52 km stage, where you can receive the race KIT.
Get ready to receive a sports massage in the afternoon, plus a delicious dinner with private chef in the evening.
2
STAGE
GIRARDOT
AGUA DE DIOS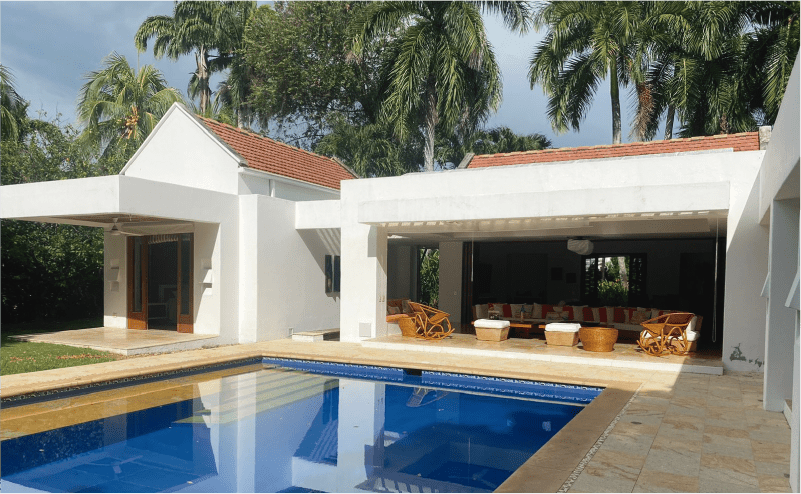 Girardot - Tocaima - Viotá - el colegio - La Mesa - Anapoima - Apulo - Tocaima - Girardot
Today will be the day to test how your legs work. Enjoy this day, pedaling through the lands of Cundinamarca and trying to catch the wheel of the legend Rigo.
After finishing the race and having a few celebratory beers, we will return to the private farm to have an afternoon of Parche with a pool and a special dinner.
not everything is


about cycling.
disfruta the cultura
APROX DURATION 1:30:00
DISTANCE 45,39 KM
ELEVATION GAIN 435 MTS
MAX ALTITUDE 297 MASL
CLIMB OF THE DAY  ALTO DE RIO SECO (DISTANCIA: 3 KMS, PENDIENTE MEDIA: 5 %)
Today we will recharge energy early, we will have a 45 km stage, where we will start from Cambao and arrive to Honda, also known as the city of bridges. Get ready to visit a museum in the afternoon and a technical conference at the Hotel las Trampas.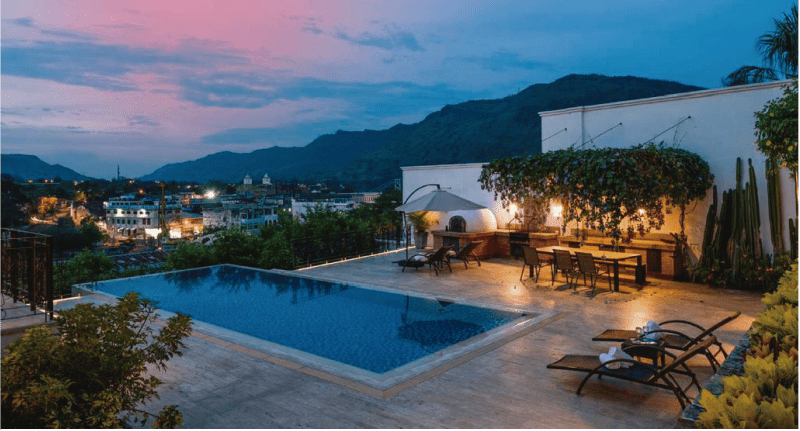 Ride the roads
of los ecarabajos.
APROX DURATION 6:35:23
DISTANCE 80 KM
ELEVATION GAIN 3,750 MTS
MAX ALTITUDE 3,700 MASL
CLIMB OF THE DAY  ALTO DE LETRAS (DISTANCIA: 80 KMS, PENDIENTE MEDIA: 4 %)
Today we will have the KING STAGE, where you will be tested both physically and mentally. This is the longest mountain pass in the world and will probably give you one of the victories you came for.
Afterwards you will be able to rest your legs in the thermal pools of the beautiful hotel TERMALES del Ruiz. There you will have the opportunity to relax and celebrate.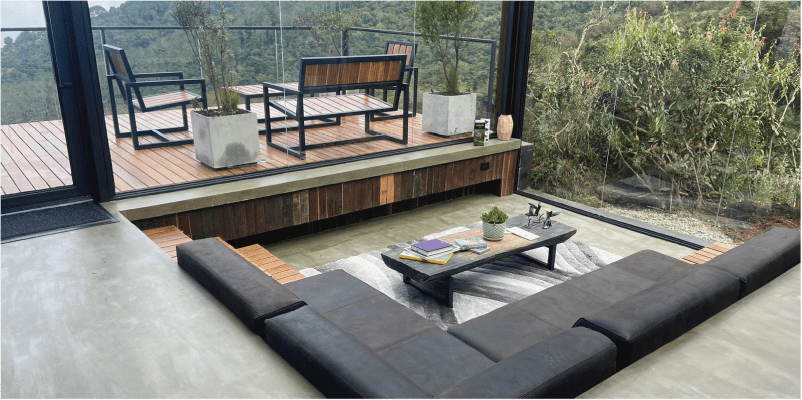 Chupar rueda
in Colombia
is a different

way of cycling
APROX DURATION 2:27:01
DISTANCE 47,86 KM
ELEVATION GAIN 846 MTS
MAX ALTITUDE 2,100 MASL
CLIMB OF THE DAY  ALTO DE LA PAZ (DISTANCIA: 2,08 KMS, PENDIENTE MEDIA: 7 %)
Although it`ll be difficult to get back on the bike, today we have a recovery ride going through terrific landscapes, we finally have reached the coffee lands. After drinking an authentic coffee and getting to know Manizales we´ll get in our way.
We will have our first contact with the Colombian coffee plantations and at the end of the ride we will rest in a private pool house.
6
STAGE
MANIZALES
SANTAGUEDA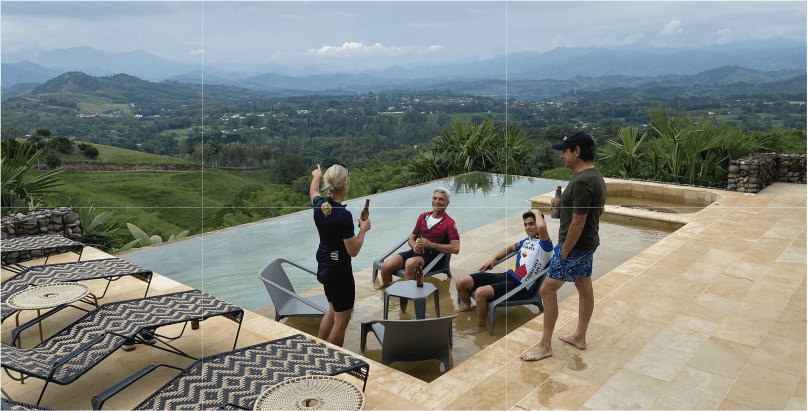 Don't stop
cycling, just
eche pa' lante.
After breakfast, we will take you to the airport for your flight home.
We hope you had a fantastic week and we look forward to seeing you soon!
*Alquiler bicicleta: 50 USD por día
*Transporte terrestre a Manizales: $USD 200 desde Bogotá o Cali (Disponible para grupos de 8 personas)
*Acomodación sencilla: $USD 400 (Sujeto a disponibilidad)